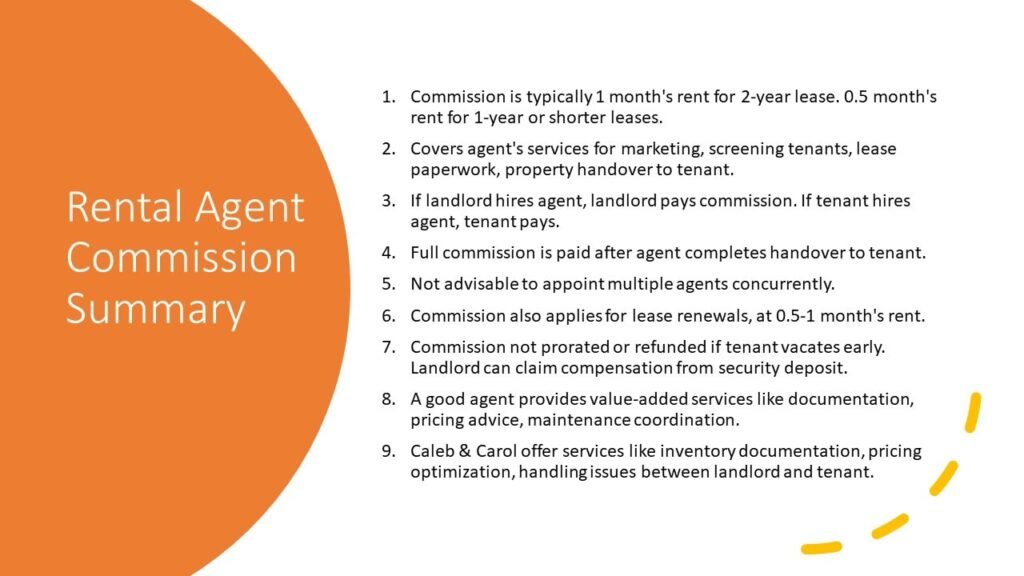 A Complete Guide to Rental Agent Commissions in Singapore
Renting out your property in Singapore typically requires appointing a real estate agent to find suitable tenants. As a landlord, what rental commission fees can you expect to pay the agent? What factors determine the commission amount and structure? Understanding agent commissions allows you to budget for this cost and negotiate fair deals. This comprehensive guide provides a detailed overview of rental agent commissions in Singapore.
What is the Typical Rental Commission Rate in Singapore?
The standard property agent commission for rental in Singapore is one month's rent for a 2-year lease. For shorter leases, the commission is pro-rated:
1-year lease or below – The commission is typically 0.5 month's rent
The 1 month for 2 years rate serves as a useful baseline.
This commission applies for every new tenant the agent secures. For multi-tenancies, commission is payable per tenant.
What Does the Rental Commission Fee Cover?
As a landlord, what services can you expect from the agent in exchange for paying the rental commission? Here are some key responsibilities covered:
Marketing the property extensively via online listings, advertisements, emailers and other promotions to attract prospective tenants
Screening tenant profiles, conducting physical or virtual viewings, negotiating tenancy offers and securing a suitable tenant as per your criteria
Preparing and executing the tenancy agreement contract, coordinating the entire lease signing process between you and the new tenant
Conducting a thorough pre-tenancy inspection and handover of the property in good condition to the new tenant
Providing periodic tenancy renewal updates and coordinating renewals or end-of-lease matters
Essentially, the commission covers the agent's end-to-end work and fees involved in securing a suitable tenant for your property until the handover process is fully completed. The exact scope may vary depending on your specific agreements with the individual agent or agency.
What Factors Influence the Commission Amount?
While 1 month's rent for a 2-year lease is fairly standard, several factors impact the exact rental commission amount:
Type of Property – Commission rates are higher for leasing out private condominiums and landed homes compared to HDB flats as the value of rental is typically higher.
Size of Property – Larger units with more bedrooms naturally command a higher commission quantum compared to renting out smaller apartments or single rooms.
Lease Duration – Shorter tenures of 1 year or less have pro-rated commissions, with 0.5 month's rent for 1-year leases being common.
Landlord Requirements – Landlords with more stringent tenant requirements may need to offer marginally higher commissions to compensate agents for the additional time and effort involved.
Exclusive Agent Packages – Some agencies provide discounted commission rates if you engage them exclusively for all your rental property listings.
Evaluating these factors will help you arrive at a fair commission rate aligned with the expected work and costs for the agent.
Do Tenants Pay Rental Agent Fee for HDB Rental Too?
Yes, tenants who proactively engage an agent to find and secure a suitable rental property on their behalf need to pay commission fees to the agent as well. This is usually valued at half a month's rent.
However, if the landlord engages the agent, tenants do not need to pay any fees themselves. The landlord pays the full rental agent commission amount instead.
Who Pays the Rental Commission in Singapore?
If the landlord hires an agent to find tenants, the landlord needs to pay the rental commission fee. This is the more common scenario.
Alternatively, if the tenant engages an agent to represent them and help search for a suitable rental property, the tenant pays the commission instead.
Essentially, the hiring party – whether landlord or tenant – directly pays the property rental agent the agreed commission amount.
When is the Rental Commission Paid?
The standard practice is for the full rental commission amount to be paid only after the agent has formally handed over the property in good tenantable condition to the new tenant as per the tenancy agreement.
This commission payment is made directly by the landlord or tenant to the rental agent, depending on who had hired and appointed them for their services.
Should I Engage Multiple Rental Agents?
It is generally not advisable for landlords to engage multiple agents concurrently to search for tenants for the same property.
Doing so would result in the agents competing with rather than complementing each other, as there is no incentive for individual agents to prioritize renting out your property quickly.
Appointing one experienced and specialized rental agent at a time to lease out your property is strongly recommended. You can always consider engaging another agent after some time if you are not satisfied with the first agent's efforts and results.
Is Commission Applicable for Lease Renewals?
Yes, rental commission in Singapore also applies for lease renewals and is payable by the landlord or tenant who engages the agent. The commission is typically valued at half a month's rent for a 1-year renewal, or 1 month's rent for a 2-year renewal.
Just like new rentals, the rental commission must be paid again to the appointed agent for handling lease renewals, either by the landlord or the tenant.
Can I Request a Rebate if Tenant Leaves Early?
No, the rental agent's full commission is considered completely earned once they successfully provide you with a suitable tenant and complete the handover of the property in good legally tenantable condition as per the tenancy agreement.
The rental commission amount will not be prorated or refunded even if the tenant unexpectedly vacates the property midway through the lease at a later stage.
As the landlord, you can instead aim to recover any compensation amount or lost rent from the tenant's security deposit for their early termination.
Key Takeaways on Rental Commissions
Typical commission is 1 month's rent for a 2-year lease
Payable by whoever engages the agent – landlord or tenant
Paid after handover; non-refundable if tenant leaves midway
Factor in property type, lease duration when negotiating
Renewals also incur commission fees
While hiring an agent involves paying commission fees, it saves landlords and tenants significant time and effort in the rental process. Carefully evaluate prevailing market commission rates and the experience of the agent before engaging their services. Consider negotiating lower commissions for portfolio listings.
Looking to Rent Out Your Property?
Caleb & Carol are a leading rental agent in Singapore who provide end-to-end services to help landlords find tenants quickly and optimize yields through their rental management expertise. Their services include digital marketing, tenant screening, paperwork and more. Talk to them to understand how their services can benefit you!
Value-Added Services of a Good Rental Agent By Caleb & Carol
Beyond just finding tenants, what value can a dedicated rental agent like Caleb & Carol bring as your property manager? Here are some of the value-added services they provide to protect your interests as a landlord:
Comprehensive Inventories and Documentation During Handover
A thorough agent will conduct and record a detailed inventory of the property's condition with photos/videos during the handover process. This ensures any damages by the outgoing or incoming tenant are accounted for.
High Quality Photos and Videos of the Property
Quality visual documentation of the entire property's condition is vital. Professional photography and videography during handover also helps attract tenants faster if needed.
Ensuring Tenant Information and Documents are In Order
The agent should verify tenant details, employment docs, previous landlord references, and other paperwork is accurate and complies with HDB and government regulations. This avoids issues later.
Advising on Optimal Rental Yields and Pricing
Agents have up-to-date market knowledge to provide rental valuations and advice on pricing the property competitively. This helps maximize your rental yields.
Handling Maintenance Issues
Agents act as a proxy between you and tenants when any maintenance issues crop up. This saves you time and headaches.
Coordinating Lease Renewals
Instead of you following up regarding lease renewals, the agent proactively manages this process and secures tenant retention.
By providing these value-added services, a dedicated rental agent like Caleb & Carol protects your interests and adds value as a landlord beyond just securing tenants.
I hope this guide provides a detailed overview of rental agent commissions in Singapore. Please reach out if you have any other questions!